Complete line of Eco-Friendly Cleaners, Storage Fluids, and Lubricants for maintaining your Urethane Foam Processing Equipment.


Purchased by Spray Foam & Polyurea Coatings Contractors & Roofers and
Manufacturers of Rigid & Flexible Polyurethane Foam.


"Green on the Inside - Clean on the Outside"
Explore the environmental compliance and performance.
Reduce overall repair costs by regularly cleaning and maintaining your spray foam and coating equipment.


Effectively Neutralizing, Cleaning, and Flushing liquid or recently cured Isocyanates (A), Polyol (B), Polyurethane Foam (Flexible and Rigid), Over Spray Foam deposits and build-up, Polyurea Coatings, Resins, Paint, and Coatings from Polyurethane Foam assembly, Spray Foam, and Coating Equipment.
Isocyanates & Polyurethane Foam
Proper Use & Procedure Presentation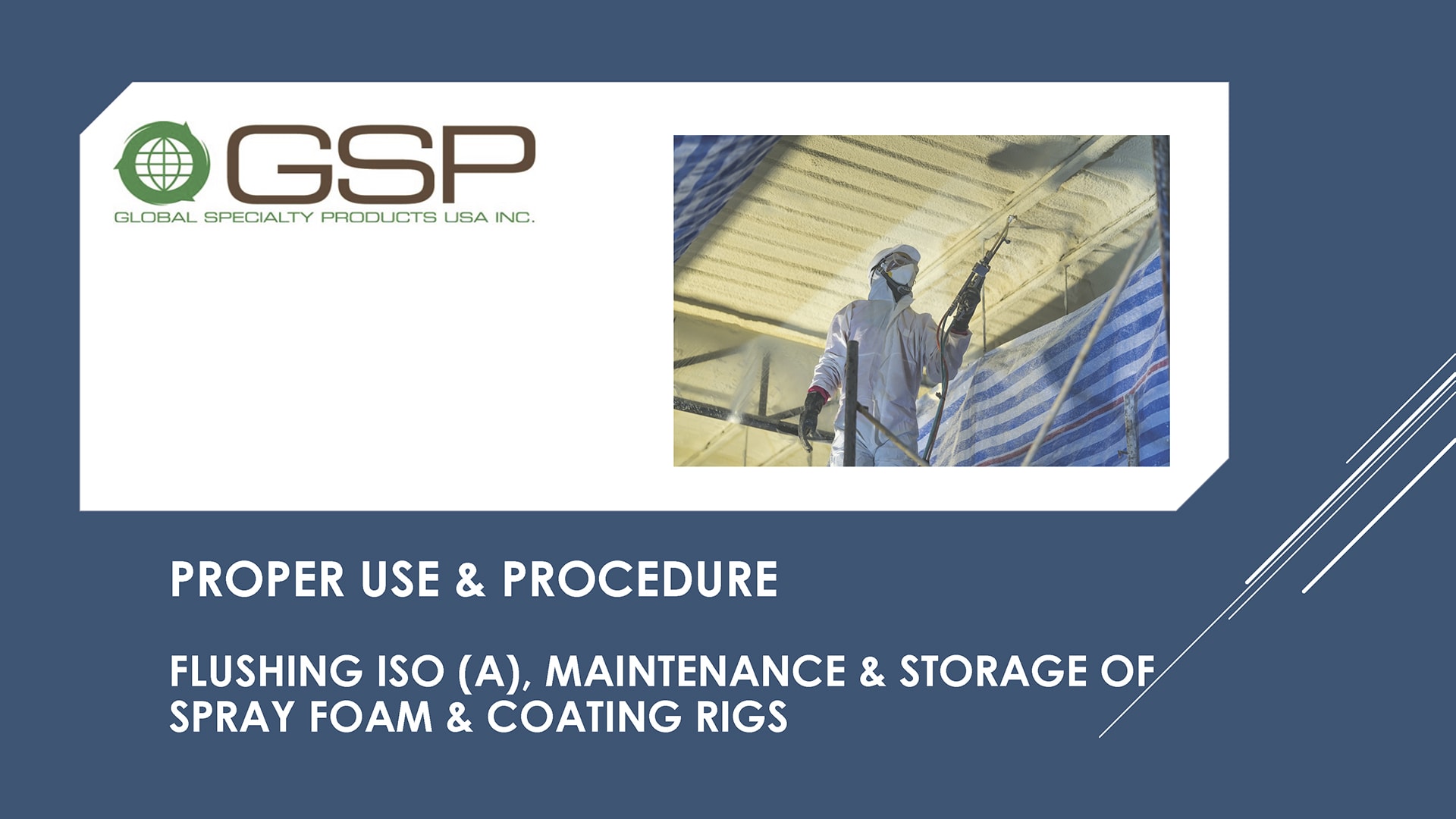 Global Specialty Products USA, Inc. manufactures Suitable Replacements for Acetone, MEK, Methylene Chloride, PM Acetate, "NMP" N-Methyl-2-Pyrrolidone, and other hazardous chemicals. Cleaning products are environmentally safe, reduced VOC, non-Hazardous, non-HAPs, non-Flammable, and Biodegradable:
Flushing & Immersion Cleaning Products for liquid and hardened ISOCYANATES (A), Polyol (B), Polyurethane Foam (Reacted A & B), Removing TDI and MDI Isocyanates, as well as overspray, deposits, and build-up from mixing heads, hoses, gear pumps, troughs, sidewalls, conveyor parts, rollers, molds, foam cutting devices, holding tanks, feeding lines, and mixing equipment.
Removing Rigid and Flexible Polyurethane Foam
Removing Over Spray Isocyanates, Polyurethane Foam, Polyurea Coatings, and other industrial coatings
Removing Silicone, Adhesives, and Release Agents
Removing Industrial Resins such as Polyester, Vinylester, Epoxy, and Polyamide
Products for Maintaining and Storage Spray Foam Equipment, Spray Guns, Hoses, and components.
Industries Served
Polyurethane Foam
Packaging
Aerospace
Automotive
Consumer
Marine
Rigid Polyurethane Foam
Foam sheathing insulation for building and construction material
Roof and wall insulation
Insulated windows
Doors and air barrier sealants
Flexible Polyurethane Foam
Cushioning in Upholstered Furniture
Beds and Mattresses
Entry Garage Doors (laminated with wood)
Carpet Cushion
Automotive Seating
Arm Rests and Headliners
Apparel Padding
Shoe Insoles
Filtration
Packaging
Sponges
Applicators
Medical and Technical Applications
Insulated Panels and Doors
Marine and Transportation
Building and Construction
Tank and Pipe
Protective Coatings
Geotechnical Applications and related Geotechnical Engineering Markets
---
Products – How to Choose
The following Products are available in GO GREEN WIPES™